The Ethereum blockchain uses a cryptocurrency called Ether for financial transactions. You can purchase ether through a broker or you can earn ether by mining. This article will focus on the steps you can take to purchase ether using US dollars.
Buying on Coinbase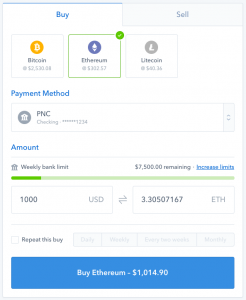 Coinbase is the best option for buying Ethereum. They have a simple user interface, quick setup, and reasonable fees. Plus they have an easy to use iOS app. Connecting to your bank will result in higher trade limits but will take 5 days to settle. Using your credit card is fast but has lower limits and a higher fee. We've also seen a lot of credit card processors reject coinbase transactions. Account limits are based on the age of your account, transaction history, and verification status. Coinbase also supports Bitcoin and Litecoin trading with plans to add more cryptocurrencies in the future.
Create an account on Coinbase

Add a payment method (bank or credit card)

Click on the Buy/Sell tab then select ethereum
We recommend staying up to date with Ethereum trading via the ethtrader subreddit.
Frequently Asked Questions
Currently no major stock brokers support cryptocurrencies. There are rumors of fidelity support crypto in the future though.
Honestly cryptocurrencies are very risky so only put as much as you're willing to lose. Mark Cuban recommends investing no more than 10% of your worth in risky investments such as Bitcoin or Ethereum.